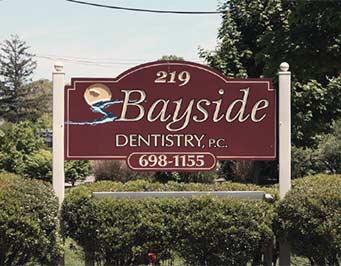 Are you looking for a dental office in Manahawkin, NJ?  We urge you to consider Bayside Dentistry.  Bayside Dentistry has been providing top-notch dental service to clients in the Manahawkin area for over 35 years.  We provide a wide variety of services including veneers, air abrasions, cosmetic dentistry, dentures, and more.
We have 4 doctors and a support staff of over 15 people available to assist you.  Having multiple doctors in one practice is an advantage to you as a patient.  You can obtain a second opinion with another dentist without leaving the practice and our doctors routinely discuss cases to figure out what is the best for our patients.  We urge you to meet a few of our dentists so that you feel comfortable with any of them in the case of an emergency.  Our goal is to treat each patient as an individual, not a number.  We value the relationships we form with each and every person who trusts us to take care of their teeth.
If you are suffering with a dental problem, give us a call.  We will work with you to figure out the best plan of action in order to take care of your issue.  We will explain everything to you and answer any questions you may have until you are comfortable proceeding with the plan.  To see some of our best before and afters, visit our Smile Gallery.  From the access to cable tv in each exam room and the availability of headphones for your use during your exam or procedure to our friendly front desk staff and our trusted medical staff, our goal is to make you feel comfortable.
Our office is conveniently located at 219 South Main St. in Barnegat, NJ, just on the border of Barnegat and Manahawkin.  You can feel comfortable choosing us because we are a trusted ADA member.  This means we have access to the most up-to-date information in the field and that we have agreed to follow the ADA Principles of Ethics and Code of Professional Conduct.  Our clients have described us as kind, gentle, caring, and compassionate.  Don't just take our word for it, read our wonderful clientele feedback by checking out our testimonials by clicking here.
If you are in search of a new dentist in the Manahawkin area, contact us today to schedule your appointment!